Fluocinolone, Hydroquinone & Tretinoin skin cream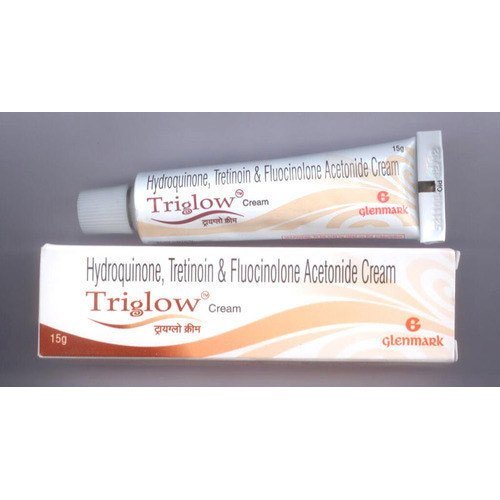 Fluocinolone, Hydroquinone & Tretinoin skin cream
Price And Quantity
, Number

4.00 - 8.00 USD ($)
Product Description
They need to know if you have any of these conditions:
sunburn
an unusual or allergic reaction to fluocinolone or any other corticosteroid, hydroquinone, tretinoin, vitamin A, sulfites, other medicines, foods, dyes, or preservatives
pregnant or trying to get pregnant
breast-feeding
How should I use this medicine?
This medicine is for external use only. Follow the directions on the prescription label. Gently wash your face with a mild cleanser. Do not use a washcloth to cleanse, just use your fingers. Rinse and pat your skin dry. Apply just enough cream to cover the discolored spots and about one-half inch of the normal skin surrounding the affected area. Lightly rub onto your skin. The medicine should become invisible almost at once. If you can still see the medicine, you are using too much. Use your medicine at regular intervals. Do not use it more often than directed.
Talk to your pediatrician regarding the use of this medicine in children. This medicine is not approved for use in children.
Overdosage: If you think you have taken too much of this medicine contact a poison control center or emergency room at once.
NOTE: This medicine is only for you. Do not share this medicine with others.
What if I miss a dose?
If you miss a dose, skip that dose and continue with your regular schedule. Do not use double or extra doses.
What may interact with this medicine?
aminolevulinic acid
benzoyl peroxide
certain antibiotics
phenothiazines like chlorpromazine, mesoridazine, prochlorperazine, thioridazine
porfimer
thiazide diuretics such as hydrochlorothiazide
This list may not describe all possible interactions. Give your health care provider a list of all the medicines, herbs, non-prescription drugs, or dietary supplements you use. Also tell them if you smoke, drink alcohol, or use illegal drugs. Some items may interact with your medicine.